27
Fri
All-day
5:30 pm
Surf-n-Turf Meat Raffle
Surf-n-Turf Meat Raffle
Sep 27 @ 5:30 pm

Ladies Night
Sep 27 @ 6:00 pm – 9:00 pm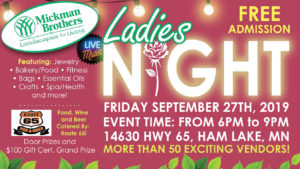 Featuring: Jewelry Bakery/Food Essential Oils Crafts Spa/Health and More!
8:00 pm
Rockin' Bar Bingo
Rockin' Bar Bingo
Sep 27 @ 8:00 pm – 11:00 pm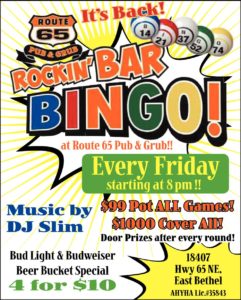 Every Friday night, Route 65 Pub & Grub hosts a Rockin' Bar Bingo party!  It's not your typical Bar Bingo.  There's a DJ taking requests and calling out the games, social drink toasts, great prize giveaways, plus cash!